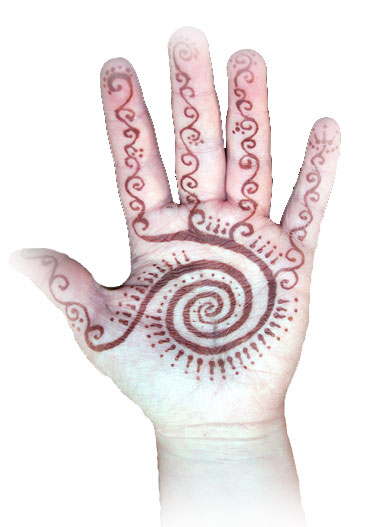 Here at Wild Rose Mehndi
we understand the frustration of struggling with messy mixing, and the ultimately poor results from many of the mail-order henna kits available.
Through the years we have learned that henna doesn't keep well, in either powder or paste form, unless it is kept cold, dark, and dry. That is why we stock our henna kits with the freshest, most powerful pre-mixed paste available, and keep them frozen until delivery.
This custom blend gives a dark, long-lasting stain over most areas of the body, with the exception of your face, neck and upper chest. (we have found however, that you can get a decent mark on neck and chest if you have naturally 'brown' skin.)
We also understand that while some of you are quite talented, many others are not so confident of your drawing skills, so we include a special transfer pencil, the kind the tattoo artists use, and some tracing paper. With these you can trace any design you like; internet flash, logos, fabric prints, magazine graphics, even your own ideas, and transfer them to your skin for a guide to follow.
Our kits contain everything you need, and nothing you don't. You won't find useless (and expensive) extras.....just good henna and good, useful tools with which to apply it.